Business Club: Strong public transport on demand
What will mobility look like in the future? What can demand responsive transport do for cities and rural areas? What insights can be derived from a data-based mobility analysis?
These were the guiding questions for our second ioki Mobility Network Business Club. As usual and in relaxed living room atmosphere, we exchanged views with industry experts, decision-makers and partners about the current problems of mobility. With the keynote from Prof. Hupfer from the Karlsruhe University of Applied Science we also dared a glance in the future. For him, one thing is certain in any case: "We cannot buy the mobility of the future as equipment in cars – we have to develop good mobility ourselves and create enthusiasm for it."
The appeal of Prof. Hupfer was placed exactly at the right time and in the right place: Because with the IMN Business Club, Regio Signale and the Women in Mobility Summit taking place in Frankfurt the city was completely dedicated to mobility last week.
After the inspiring intro we decided to become more active – and the following breakout session was the perfect reason to stroll around our ioki office and learn more about Mobility Analytics. In three fifteen-minute sessions, our Mobility Analytics & Consulting Team explained all interested participants where all the detailed data for a mobility analysis originated from, how the actual planning of a demand responsive service works in practice and which advantages can result from the interplay of liner and surface traffic.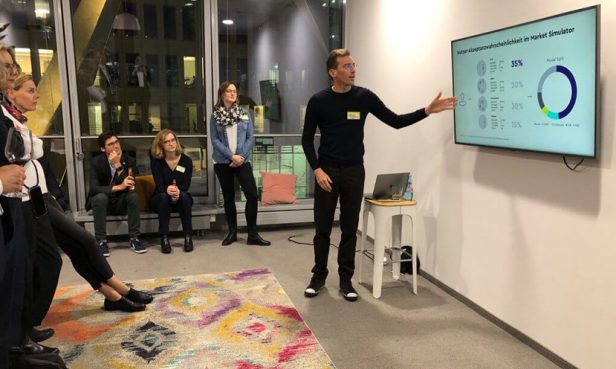 Beside all the technical information and learnings we could all take one key learning with us: The future of mobility lies in the joint design and symbiotic cooperation of established and new players. Only in this way can we successfully further develop the existing services and, in combination with new solutions, strengthen public transport sustainably and in line with the real demand.
We would like to thank Prof. Hupfer for the inspiring lecture and all guests for their interest and passion for a joint discussion about the mobility of the future.