Do we still need our own car? What will our cityscape look like in 20 years? What needs do rural regions have? Which clever minds in the industry think mobility and how? And what do on-demand services and mobility analytics have to do with all this? Questions that we ask ourselves every day in our work and to which we – at least now and then – note our answers and thoughts. For you, for us, for exciting impulses, for more mobility and less traffic. 
Andrés studied civil engineering and specialised in the planning and operation of transport systems as a part of his studies. He joined ioki's Mobility Analytics team in 2019 and was influential in creating the study on public mobility in Germany.
read more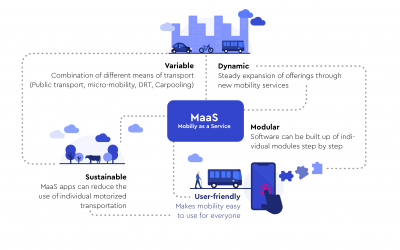 Whenever we talk about the transport revolution and the associated restructuring of public transport, we cannot avoid the term "Mobility as a Service", abbreviated MaaS. But what exactly is "MaaS" and how can the digital approach help to sustainably advance the transport revolution?
read more